Process:
I will begin working on your renderings once you place an order. Once you decide on a place, a style (topographic or silhouette) and a shape I will create a rendering- or 3D model of your piece, and send you several images to look at of the 3D model.
If you want a silhouette style rendering and have an image that shows the exact view you are looking for send that to me, so I have a reference image. If you don't have an image, that's ok too.
Once you see the renderings, you can give me feedback and I will revisit the 3D model and make the changes you requested. Two design rounds are included.
Time frame:
When the rendering is perfect, I will send it to the casting company. This takes anywhere from 3-4 weeks. Sometimes it can take longer because casting is an art as much as a science, and it just takes time.
If you have a stone in your piece, please expect another 1-2 weeks for it to be ready for you. 
timeline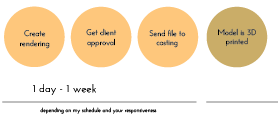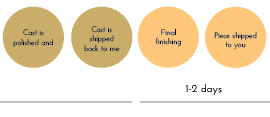 This time frame does not include wedding bands. Please see the weddings page for more information about that specific time frame.
Details:
When I receive the final piece, I will finish it, adding a chain to the length of your specification and send it to you with tracking information.
In your order, please also specify the metal of your choice, finish (shiny or oxidized) and chain length if you are ordering a pendant.
Contact me with any questions!
Other custom work:
Have an idea that is beyond what I have pictured here? I love working on bringing your ideas to life!
Check out my terms and conditions for work outside the scope of the custom pieces on this page.